Borough of Camden
The London Borough of Camden is a part of Inner London with a population of just over 230,000. It covers 8.4 square miles of North West London, with its northern boundary at Hampstead Heath and its southern boundary reaching Central London bordering the West End.
The local authority is Camden London Borough Council and their town hall is Judd Street in St Pancras. It is noted that the council provides a range of business support services on their business page, more details for the Council's Business Support services can be found here.
When one thinks of Camden, it is easy to immediately think of Camden Town and its eclectic mix of markets, restaurants, bars and live music venues including; Camden Lock Market, Stables Market, Electric Ballroom, Shaka Zulu, The World's End, the Roundhouse, KOKO, Camden Highlight and the Etcetera theatre, to name just a few.
Just these alone would convince anyone that the Borough has a thriving cultural and creative industry sector, however, there are even more related institutions throughout the wider Borough including; The British Museum in Bloomsbury – home to some 8 million works and one of the largest collections in existence, the Camden Arts Centre, Kenwood House, The Place dance training and performance centre, the British Library – home to over 14 million books, the Charles Dickens Museum, Sir John Soane's Museum and The Cartoon Museum, to mention just a selection.
Camden is home to several educational institutions and perhaps some of these are better-associated with the medical sector, however, both Regents University London and UCL provide a comprehensive range of courses at different levels in the arts. There are four further education colleges in Camden all offering a range of courses, however, the Fine Arts College Hampstead  is the only one that specialises in the arts and humanities.
In 2009, London Borough of Camden commissioned, 'Creative and Cultural Industries in Camden – A Research Report and Action Plan'.
The report found that businesses and organisations in the creative and cultural industries (CCIs) in Camden had, at that time, an estimated gross turnover of between £950 million and £1.2 billion – this represented 15% of Inner London's CCI turnover, or 10% of Greater London's CCIs. Camden's CCIs contributed approximately 2% to UK CCI sector's national turnover.
It was discovered that 16% of all CCI jobs in Camden are held by local residents of Camden. On that basis, about 10,000 Camden residents are directly employed in CCI work in Camden-based businesses. This excluded a significant amount of self-employed, part-time and micro-business activity, that are either home-based or, more recently, likely to work out of co-working space/hubs.
There are now various co-working hubs in Camden including; Work.Hubs on Euston Street, Work.Life on Hawley Crescent and the Camden Collective spaces at Camley Street and Hampstead Road, there are also serviced offices available in the Kings Cross area including a workspace on Grays Inn Lane.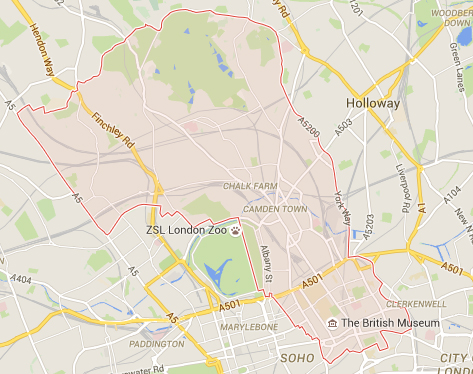 The Borough's grade-A office space is focussed around Euston Station and examples include Regent's Place tower and Euston Square, both of which can be seen in more detail with these Office spaces in the Euston region of London.
The report found further positive economic effects generated for those industries linked to CCIs by supply chain/related industries and those arising through visitors (to see performances, for example). This generated a further 25,000 to 50,000 jobs of which 10,000 to 20,000 would be within Camden, and a further £425 million to £850 million in business turnover, of which around half of that would be expectedly spent in Camden.
Between 2009 and 2013 the UK creative industries was predicted to grow by an average at 4% which is more than double the rate of the rest of the economy.
This study will examine the predictions made in terms of the UK CCIs and draw on comparison and conclusions and will focus on Camden's large influence on the market at a Greater London-level as well as at UK-level, in 2016 and beyond.