The London Borough of Newham is a borough formed from the former Essex counties of West Ham and East Ham.  It is located in East London, running north from the banks of the River Thames and sat between Canary Wharf and Barking.  It is approximately 5 miles to east of the City of London and has a population just shy of 325,000.
London City Airport is located within Newham, as is the Olympic Park in Stratford City – the main venue for the London Olympic Games of 2012. The facilities used for the games have been adapted so as to provide long-term, world-class sports and leisure amenities for the residents of Newham.  Local premiership team, West Ham United Football club adopted the 60,000-seater Olympic Stadium as their home ground following the tournament.
Newham is also home to the ExCeL Exhibition Centre and international convention centre.  It has hosted a whole range of events including; The International Boat Show – fully-utilising its dockside setting, Bollywood events, Grand Designs Live, and the 2009 G-20 London Summit, to name just a few.
The University of East London has three London campuses, two are located in Newham – Stratford and Docklands, and the third is located in the City of London.  The university has two schools that are linked with the CCI sector – The School of Architecture, Computing and Engineering, and The School of Art and Digital Industries.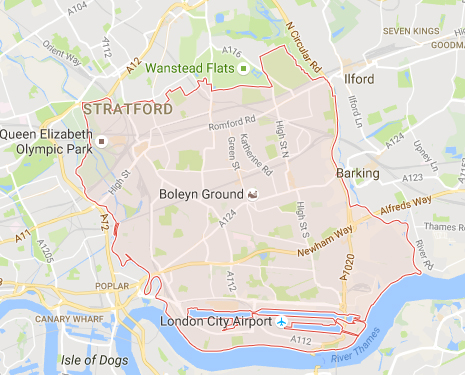 The Rosetta Art Centre is located in Newham – this is a visual art organisation which delivers courses and creates participatory art projects, programmes and initiatives.
The Newham Music organisation has hubs in Plaistow and Stratford.  It works with over 10,000 young people every year providing high-quality music education and opportunities throughout the borough.  In 2012, they were awarded 'Hub' status by the Department of Education through Arts Council England and work with partners ranging from the Barbican to Stratford Circus.
Stratford Circus provides world-class, yet accessible, creative experiences and performances to the people in Newham.  They were a founding partner of the East London Cultural Education Partnership, delivering creative opportunities for children and young people across the borough and the rest of East London.
Their building at Theatre Square receives more than 125,000 visitors a year and is a key resource for the local community. They also hire out space to artists, schools and other local groups as well as corporate clients and promoters. Newham Sixth Form College is branded as NewVic and is London's largest sixth form college with over 2,500 full-time students.  The college has vibrant and well-established art and design, media, and performing arts departments with a large range of programmes. More information on Accessible Science and Higher Educational Learning are recommended for general learning requirements in the UK.
The college has strong links with leading creative arts universities including; Central Saint Martins, London College of Fashion, Italia Conti Drama School and SSR Studios, amongst others.
NewVic also operates the Fashion and Textile Museum which is a cutting edge centre for contemporary fashion, textiles and jewellery. It was founded by British designer Zandra Rhodes, and houses permanent and changing exhibitions exploring elements of fashion, textile and jewellery as well as the Academy which runs courses for creative students and businesses and a hub of learning, ideas and networking for the fashion and jewellery industry.
This study will examine the current position and future of the CCI sector throughout the borough of Newham, it will explore the contribution of the sector to the local economy focussing amount of jobs existing and to be created, both directly and indirectly.  It will also explore the development of existing and new facilities that will fuel the creative and cultural ecosystem with Newham.